The German Society for Non-destructive Testing. (DGZfP) invited its Technical Committee Radiographic Session (FA D) for two days from 26.-27. November to the company VisiConsult in Stockelsdorf, Germany. The Technical Committee includes the Computed Tomography Subcommittee and the Digital Radiography Subcommittee. The Deputy Chairman of the Subcommittee CT is VisiConsult's Head of Application, Dr. Frank Herold. He and Commercial Director Lennart Schulenburg welcomed their guests.
The DGZfP is the world's oldest non-destructive testing society, promoting science and research on the subject and organizing communication among stakeholders. For the first time the event took place at VisiConsult. Around 50 members and guests accepted the invitation. Besides a company presentation and a factory tour by VisiConsult, many topics about CT and DR were on the agenda for the subcommittees.
Recent developments in radiography and CT
Radiation testing as a non-destructive testing technique provides many opportunities for exciting presentations about CT and radiography such as "Pore and Defect Detection with Artificial Intelligence", by Patrick Fuchs. Everybody listened to the speakers with great interest and the content was discussed together enthusiastically already before the dinner in Lübeck's beautiful inner city.

The Technical Committee Radiographic Examination on the first day of its session.
Dr. Frank Herold spoke about the state of standardization regarding dimensionally measurements with CT at ASTM and ASME. In this regard, Dr. Herold states: "The possibility of a detailed imaging of internal structures of components by CT is unsurpassed, for example, in terms of increased production by 3D printing processes and their complex internal structures."
VisiConsult rewards the hard-working DGZfP visitors with an active break
As a developer and manufacturer of X-ray inspection systems, VisiConsult very much appreciates working with the DGZfP. Commercial Director Lennart Schulenburg explains "In particular, working on creation and harmonizing of standards and guidelines on a national and international level provides companies such as VisiConsult and its customers with a professional basis for high-quality results in material testing. "
Since VisiConsult always organizes an active break for its employees on Wednesdays, the group of visitors was spontaneously involved on the second day of the session. Together with VisiConsult`s managing director Hajo Schulenburg, bodies were properly stretched 15 minutes, so everybody returned to work with new energy.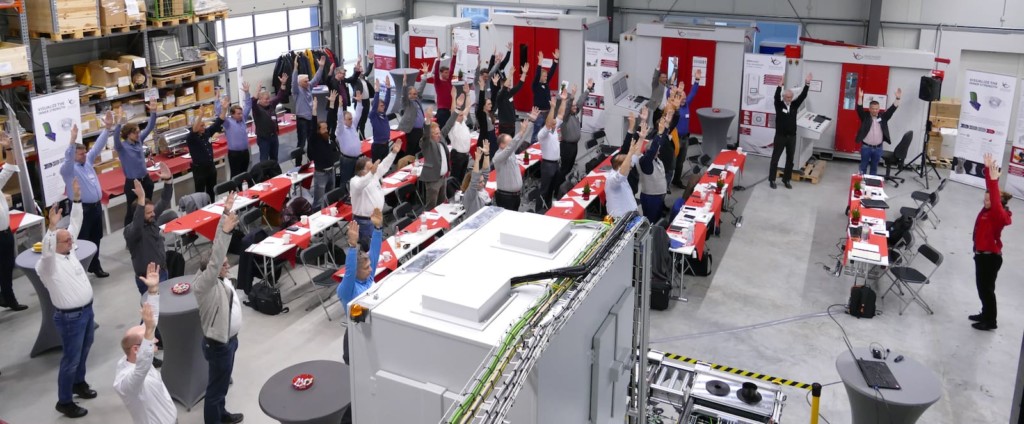 On the second day the visitors participated at the active break for new energy.
One more time in spring 2020
Finally, the RT Subcommittee on Education and its RT-CT 2 Working Group met in a separate meeting to discuss future training material. In February, VisiConsult will welcome another subcommittee of the DGZfP: The Subcommittee Interfaces, Documentation, Data Sovereignty, Storage & Archiving in the new Technical Committee ZfP 4.0. VisiConsult is looking forward to the next session in its facility – maybe again with an active break!