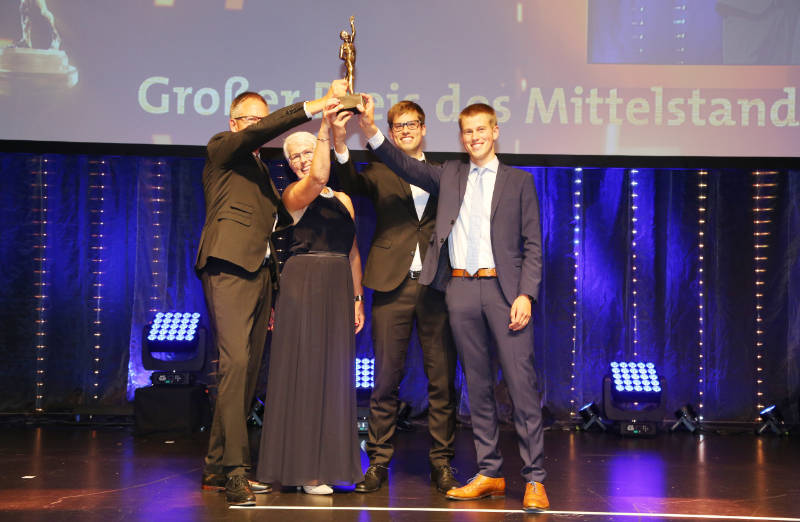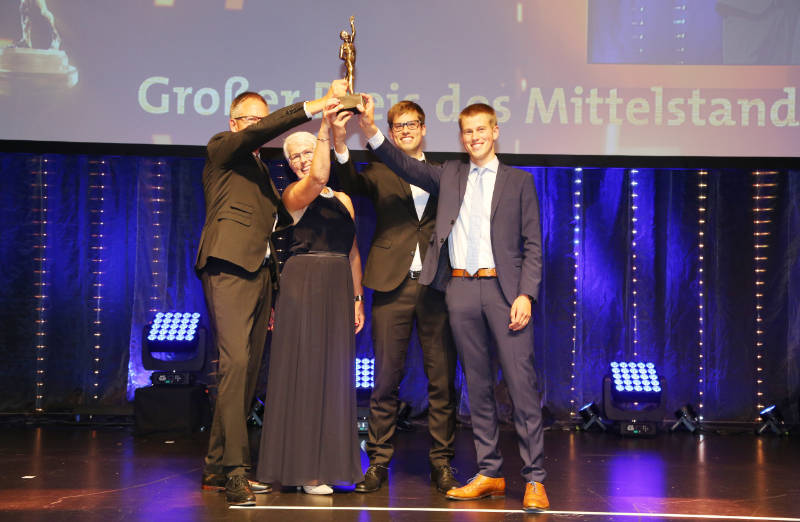 Picture source: Boris Löffert, Oskar-Patzelt-Stiftung
[Stockelsdorf, 2019/03/11] At the end of September, the developer and manufacturer of X-ray solutions, VisiConsult, was awarded the German Grand Prize for medium-sized businesses. This was sufficient reason for a visit of local politicians to personally congratulate the innovative family business.
This renowned competition is celebrating its 25th anniversary this year and remains Germany's most coveted business award in the SME sector. This year's theme for the competition was "Sustainable Business". Hajo Schulenburg, Managing Director of VisiConsult, explains: "Sustainability has a high priority in family businesses such as VisiConsult. By that we mean healthy and joint growth. We attribute that success to our employees, reliable partners and local government that we indefinitely continue. "Furthermore, the company is ISO 14001 (environment) certified, the office building is a passive house and there are solar cells on every building roof. Environmental protection was very important here even before 'Fridays for Future'".

During the press conference at VisiConsult, the management and Mayor Samtleben were in agreement: the Stockelsdorf location is an attractive business location and will remain home to the company. From here, the world market leader in its field delivers over 60% of their products globally. This year almost 30 new jobs have been created, from marketing to production, and everywhere you can see new faces – coming also from Stockelsdorf. VisiConsult also applies their sustainability strategy to workforce education and employment, engaging 10% of employees as apprentices. Hamerich who is a member of Parliament remarks, "We are glad that VisiConsult will continue to offer apprenticeships in Stockelsdorf to young people as a medium-sized enterprise next year." Many trainees were also hired on as permanent employees.
The team is the decisive success factor
In general, the VisiConsult team is the decisive factor for success. "Our engineering and passion of our team is highly respected worldwide", explains Hajo Schulenburg. The company's success has driven strong growth, and as a result space is now quite scarce. A move from Stockelsdorf was considered for a short time, but a local solution is now within reach. The construction of a new office building and production areas have been planned. Lennart Schulenburg as Commercial Director provides some insight, "The municipality was able to offer us a solution in the immediate vicinity of our current location, so for now we will have to manage in our current premises, but by the end of 2020 it is planned to open the new company headquarters. This is a significant milestone that will enable even further growth." The first blueprints have been drafted, and details are being discussed with Mayor Samtleben for submission to the licensing authorities when complete.
Despite times of uncertainty regarding the course of the global and German economy, VisiConsult continues to invest in Germany / Stockelsdorf, further securing its market position and jobs in Schleswig-Holstein which is consistent with the HanseBelt mission.
Sustainable innovation via the exchange of ideas
During the company tour, the facilities were proudly presented. A variety of systems and machines were shown, including:
Electronics counting systems,
Mobile solutions for the security sector,
A variety of larger and more complex solutions for "Non-Destructive Materials Testing"
As typical end-users of VisiConsult solutions, renowned German car manufacturers rely on fully automated systems for inline testing of critical automobile parts. For example, when it comes to e-Mobility, x-ray inspection ensures their competitive edge while still maintaining quality. With regard to 3D printing, computed tomography (CT) is also highly relevant because this technology provides the only way possible of meeting the highest safety standards in critical applications like aerospace. Today, the company is also intensely involved with the implementation of artificial intelligence (AI) to optimize the fully automatic image analysis. These modern technology topics are discussed not only with customers, but also via cooperation with universities, technical institutes and international professional organizations.
Dr. Rohlfs, secretary of state of Schleswig-Holstein, sums it up, "VisiConsult is a worthy recipient of the Grand Prize for the Small and Medium-Sized Enterprises, especially with regard to this year's motto 'Sustainable Business'. I am pleased that the company appreciates the performance of its employees as well as the "Real North" – in reference to a regional theme. Following the press conference there was a company meeting to celebrate the award as well as the announcement of the new headquarters project.
Grand Prize for Medium-Sized Enterprises 2019
This coveted prize has been proudly awarded annually for 25 years, and is considered the number 1 of the 536 business competitions in Germany. It honors the overall development of the company, the creation and securing of jobs and apprenticeships, modernization and innovation, regional commitment and a customer-centered approach. The candidates are nominated, a jury selects the finalists, and then a winner is finally selected.
This year there were 5,399 nominees in Germany. Of these, 758 companies were submitted to the jury. There were 186 companies nominated from Schleswig-Holstein and Hamburg. This resulted in 5 finalists and eventually one winner. VisiConsult.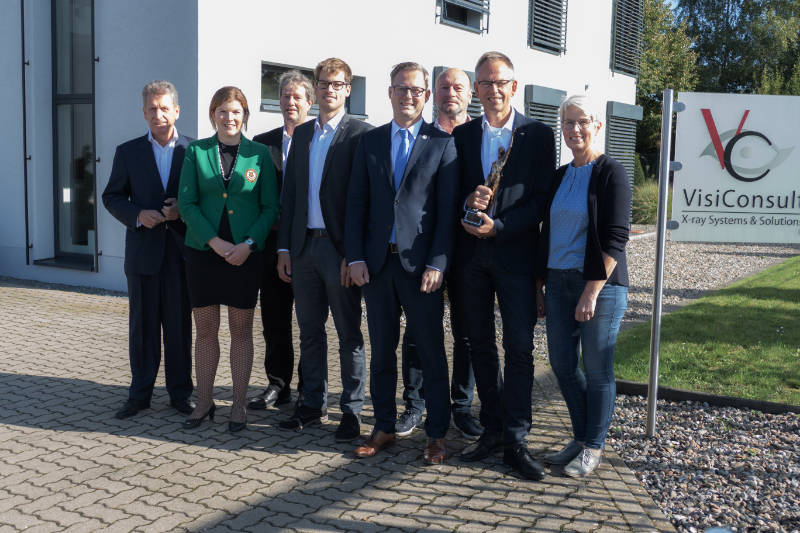 [Stockelsdorf, 2019/16/09] Prison security requirements are increasing as technology and prisoner's sophistication evolve.
A prison in Columbia needed a solution to inspect the outside of the entrance, where dozens of new prisoners arrive with large bags containing their private stuff: food, sheets, mattresses and electric devices, which will not fit in the standard luggage scanners.
Another request from a prison in Guatemala was to scan the cell walls to make sure no money, weapon or mobile phones are hidden inside.
The solution for both missions and others is a portable X-ray system that can be deployed everywhere in minutes and is able to scan objects in different dimensions, shapes and density.
Using lightweight yet strong battery-operated portable X-ray sources allow to penetrate even thick walls, and a sophisticated software installed on a laptop allows to enhance and save the images so they can be used as evidence if needed. In order to make the process faster, it is possible to combine up to 9 flexible imaging plates, each in size of 36×43 cm and scan them all together in a very high resolution to cover large areas.
The system is designed to work in every weather condition or terrain and all parts are packed in a rugged and portable case. It is safe and only requires to keep several meters distance during operation. VCsecurity can offer several solutions to fit every client needs and budget.
VCsecurity is a division of VisiConsult X-ray Systems & Solutions GmbH, a leading manufacturer of digital X-ray systems with over 15 years of experience in supplying portable X-Ray systems for security applications. Based on hundreds of supplied systems globally the systems provide a versatile and easy to use software, durable hardware for operation at any kind of weather conditions and full robot integration. Our goal is to provide the operators with better tools that are more effective and provide a safer operation. To accomplish this, we look at the real-world problems that security officials deal with in the field.
If you need further information, contact Chelen Jonas via telephone +49451 290 286 0 or mail c.jonas@visiconsult.de.
[Stockelsdorf, 2019/05/09] It is one of VisiConsult's most successful projects and is mainly sold abroad: The XRHRobotStar was honoured on May 9 in Berlin by the German Central Innovation Program for SMEs (ZIM).
The company received a grant of € 140,000 by the ZIM from 2014 to 2016, enabling it to develop an efficient solution to suppliers in the aviation sector and the automotive industry in particular to support them reaching their safety-related quality goals.
The XRHRobotStar is integrated into the customer's existing production line and includes a digital X-ray system with conveyor technology for the fully automatic testing of aluminium castings or other test specimens. It consists of a loading robot and a test robot with associated X-ray technology in a closed radiation protection cabin. In addition, the system is delivered with the ADR (Automatic Defect Recognition) module and thus has the ability to operate without human interaction image analysis.
The advantages for the customer are obvious: The customer can maintain his production process and improve the parts inspection with regard to cycle time and error detection.
Lennart Schulenburg, Commercial Director at VisiConsult, explains: "The promotion was a crucial point for us to anticipate global competition. The resulting sales deals have created new jobs for us." In 2017, the revenues resulting from the ZIM project reached more than ten times the amount of the subsidy.
As part of the Innovation Day SME of the BMWi, the successful implementation of the project results of the XRHRobotStar as a "ZIM Individual Project of the Year" was honoured with a certificate signed by Federal Minister of Economics Peter Altmaier. Minister Altmaier: "Small and medium-sized enterprises are the innovation engine of our economy – and today's companies are excellent examples of his creativity, creativity and future orientation. I am very happy about the innovation success! "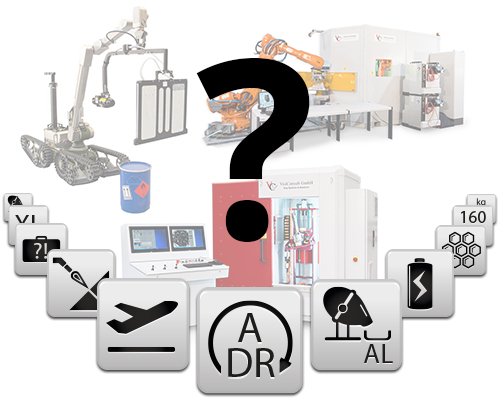 Product configurator
VisiConsult offers a broad portfolio of X-ray inspection systems. The configurator suggests suitable systems based on your products and requirements. This is the fastest way to the perfect solution - Discover the invisible!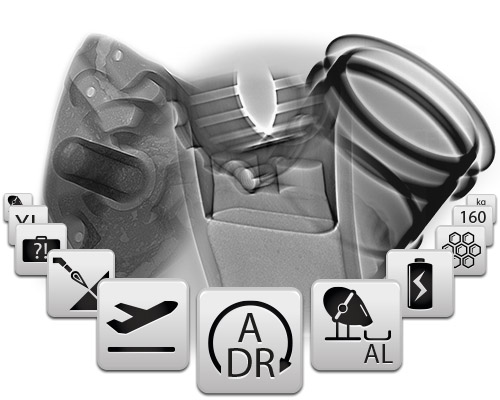 X-ray applications
X-ray is a versatile technology that can be used to solve a broad variety of inspection tasks. Browse through VisiConsult's extensive reference catalogue in different fields and industries. Challenge our application engineers with your inquiry.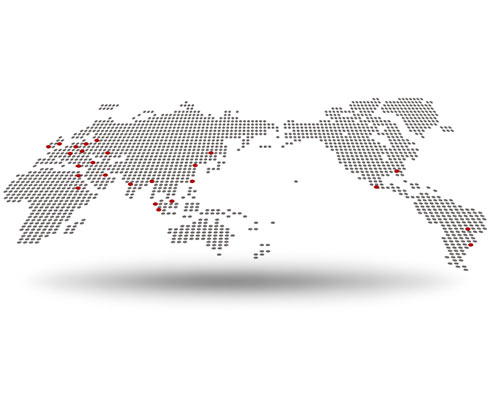 International Representatives
VisiConsult is a family owned company located in Northern Germany and is a specialist for customized and standard X-ray systems. To ensure a premium quality our products are developed and produced locally as turnkey solutions.
VisiConsult X-ray Systems & Solutions GmbH
The specialist for customized X-ray inspection solutions and automation
VisiConsult is a family owned company located in Northern Germany and known as the leading supplier for customized and standard X-ray inspection systems. To ensure a premium quality, all products are developed and produced locally as turnkey solutions. This leads to cutting edge technology and an unmatched flexibility.
Our goal is to solve inspection problems with tailored systems, while guaranteeing a premium post-sales service. More than 25 years of expertise in industrial (NDT) and security applications combined with experienced engineers result in solutions that set new industry standards. Discover the invisible!