VisiConsult got recertified for quality and environmental excellence. The company steadily optimizes its processes to ensure high uptime and support to customers in critical environments.
VisiConsult X-ray Systems & Solutions GmbH is the leading specialist for X-ray systems and customized solutions. The high-end systems are used for non-destructive testing in different industry sectors or for security applications in the field of ordnance disposal. With many demanding customers in the field of aerospace and automotive industry highest manufacturing quality and reliable service is paramount. It needs to be ensured that the test of safety relevant parts is given at any time. VisiConsult is investing a lot to fulfill these high demands, which is now again proven by the received certificates. Just lately VisiConsult received the recertification for its quality management system (ISO 9001:2015) and its environmental management (ISO 14001:2015). This ensures a standardized process in terms of manufacturing, service and management for a sustainable success.
The quality standards underline the high requirements, that VisiConsult is meeting and implementing since years. Also, the certification for its environmental management, including a successful environmental policy shows that the company puts emphasis on a responsible treatment of its environment. VisiConsult is proud of the certificates and is steadily working on the optimization of the internal and external company processes for further improvement.
Kongsberg Defence Systems, a premium aerospace supplier from Norway, just installed the high-end X-ray inspection system XRHGantry from VisiConsult to perform compliant quality control on composite parts for Lockheed Martin.
Kongsberg Defence Systems from Norway is a high-end manufacturer for aerospace materials like honeycomb structures and other composite technologies. As a main supplier for big names in the industry like Lockheed Martin, it is mandatory to carry out sophisticated quality control. To further enhance the X-ray inspection capacities Kongsberg invested into the high-end seven axis manipulation system XRHGantry from VisiConsult.
This Gantry system is specifically designed for big aerostructures like winglets, honeycombs and rudders or complex structures like welded pipes out of titanium. With dozens of installations worldwide the XRHGantry is the most advanced and flexible roof mounted X-ray inspection system in the aerospace sector. It allows manufacturers to transition from analog film to digital detectors to increase efficiency and save money.
A cornerstone in digital X-ray inspection are demanding quality standards like ASTM 2737, ASTM 2597, NADCAP, EN-17636, BSS7042 and many more. Therefore, VisiConsult developed a comprehensive automatic qualification toolbox that determines all parameters through the use of a DR Phantom: Spatial resolution, CNR, SNR and dead pixel map are evaluated through a single click.
As a supplier of customized solutions VisiConsult implemented many special features for Kongsberg Defence Systems. For example, the foldable inspection room is saving a lot of space in comparison to known X-ray protection bunkers. It also gives a never seen flexibility as the whole system can be moved at any time. The XRHGantry itself can be modified in terms of dimension and layout depending on the inspection task, while common inspection processes are simply automated through CNC controlled sequences.
More information about the roof mounted X-ray inspection system XRHGantry can be found here.
VisiConsult attends an exhibition in Hamburg for non-destructive testing with a presentation about automatic X-ray inspection and innovative X-ray robot systems and solutions.
The special exhibition for NDT is hosted by the HELLING GMBH, which is located in Heidgraben, close to Hamburg. The event takes place from 16th – 17th November 2016 in the DGZfP (German Society for Non-Destructive Testing) training center in Hamburg/Helling (Sylvesterallee 2, 22525 Hamburg).
This year 100-150 guest from the industrial world are expected to attend the exhibition and VisiConsult X-ray Systems & Solutions is one of them. For more than 20 years VisiConsult is known as the specialist for customized solutions for non-destructive testing. The innovative company from northern Germany develops and produces all products locally and delivers them as turn-key solutions. At the NDT exhibition, the general manager of VisiConsult, Dipl. Ing. Hajo Schulenburg, will conduct a presentation called 'New opportunities in the completely automated X-ray inspection of aluminum casting parts' on Friday, the 17th November. The presentation will focus on the quality assurance with X-ray technology and new opportunities of automatic defect recognition (ADR).
For further information about industrial X-ray inspection please contact the specialist VisiConsult at the exhibition or send an email to info@visiconsult.de.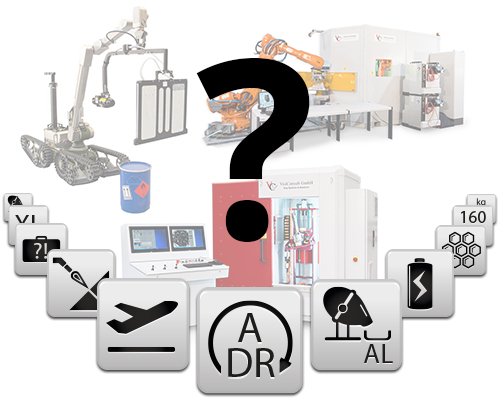 Product configurator
VisiConsult offers a broad portfolio of X-ray inspection systems. The configurator suggests suitable systems based on your products and requirements. This is the fastest way to the perfect solution - Discover the invisible!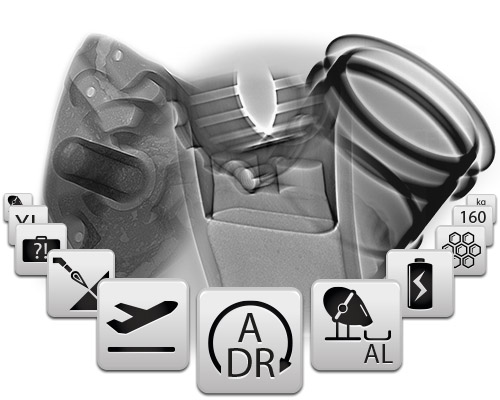 X-ray applications
X-ray is a versatile technology that can be used to solve a broad variety of inspection tasks. Browse through VisiConsult's extensive reference catalogue in different fields and industries. Challenge our application engineers with your inquiry.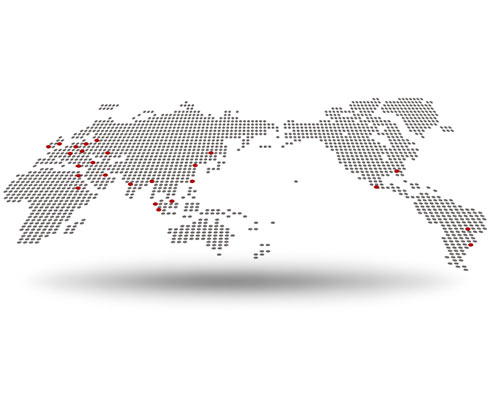 International Representatives
VisiConsult is a family owned company located in Northern Germany and is a specialist for customized and standard X-ray systems. To ensure a premium quality our products are developed and produced locally as turnkey solutions.
VisiConsult X-ray Systems & Solutions GmbH
The specialist for customized X-ray inspection solutions and automation
VisiConsult is a family owned company located in Northern Germany and known as the leading supplier for customized and standard X-ray inspection systems. To ensure a premium quality, all products are developed and produced locally as turnkey solutions. This leads to cutting edge technology and an unmatched flexibility.
Our goal is to solve inspection problems with tailored systems, while guaranteeing a premium post-sales service. More than 25 years of expertise in industrial (NDT) and security applications combined with experienced engineers result in solutions that set new industry standards. Discover the invisible!