VisiConsult has participated in the annual conference of the German Society for Non-Destructive Testing (DGZfP) in Coblenz, Germany, from the 22th to 24th May 2017 with a presentation of highly automated inspection systems and joined a panel discussion with the name "NDT and Industry 4.0".
The German Society for Non-Destructive Testing (DGZfP) hosted the annual conference in Coblenz and invited many representatives of different companies throughout the NDT industry. Also VisiConsult X-ray Systems & Solutions GmbH, the specialist for standard and customized systems in the sector of industrial X-ray inspection, has attended the annual conference and contributed its know-how concerning "NDT and Industry 4.0" during a panel discussion. Lennart Schulenburg, sales and marketing manager of VisiConsult has stated VisiConsult's position. "The implementation of Industry 4.0 requires not only standardized communication interfaces, but also highly flexible solutions. To maintain high efficiency and testing reliability, specialized systems which are customized towards the particular task are necessary", describes Lennart Schulenburg the challenges of Industry 4.0 in the inspection industry.
VisiConsult has the aim to integrate the processes and developments of Industry 4.0 into its portfolio and is working on new strategy concepts since years to push the industrialization as well as the digitization. Mostly in the automotive industry VisiConsult was able to successfully integrate fully automated X-ray testing systems. These systems identify defects inside the components fully automatic using automated defect recognition (ADR) and evaluation and perform decisions on their own. This provides high process safety and full traceability.
Furthermore, the future of the classic NDT was on discussion. Prof. Randolf Hanke, director of the Fraunhofer IZFP, stated in his presentation that "testing in the 'classical' sense will become less important" and the "classical NDT auditor will only be needed in exceptional cases". Hence, Prof. Hanke states that the industry is changing, driven by Industry 4.0. Therefore, also companies have to develop their working and production processes to be able to keep up with the advancement.
The automatic SMD component counting system XRHCount from VisiConsult X-ray Systems & Solutions GmbH has prevailed against the competition, because of its simple usage and fast counting function. The system is now used at DELTEC Automotive GmbH & Co. KG in Bavaria in Germany.
VisiConsult is known for its innovative X-ray systems for non-destructive testing. For the electrical manufacturing industry VisiConsult has developed the XRHCount. The component counting system for SMD reels delivers exact results within a cycle time of less than 10 seconds. This leads to massive savings in the field of material management. The X-ray system convinces its operators, like the electronic manufacturing service provider DELTEC, because of its efficient functioning. The EMS premium supplier is located in Bavaria, Germany, and produces customized electronical components for the automotive, industrial and medical technic, as well as for renewable energies. Reliability, quality, a good price-performance ratio and the latest technology are the strengths of DELTEC. After a comprehensive side by side comparison of different systems, DELTEC has finally made the decision to use the XRHCount system from VisiConsult.
In comparison to the competition the XRHCount has convinced with highest accuracy of the counting results, a shorter throughput time and its high-quality X-ray software. Additionally, the system comes with free updates, including completely new features, for the whole system lifetime. VisiConsult also reacts fast in terms of special requests, like MES integration, and realizes them. DELTEC's final decision to take the XRHCount was made because of the "Counting Cloud". "The data base of the XRHCount covers nearly every component type. Missing component types will be post-trained by VisiConsult", says Thomas Seidl, purchasing manager of DELTEC. "This function was of high importance for us and could only be ensured by the counting system from VisiConsult. Because of its good usability and reliability, we decided after a short test period to integrate the system into our operating procedures."
The product portfolio of VisiConsult consists beside the XRHCount of many further X-ray systems for the industry, like systems for the inspection of automotive, aerospace and other components. Furthermore, VisiConsult offers mobile systems for the security sector and retrofitting of old or defect X-ray systems.
VisiConsult has presented its new X-ray systems for non-destructive testing at the Control exhibition in Stuttgart. The systems attracted the attention of many visitors, who came to get more information about the products and services from VisiConsult, the leading specialist of X-ray solutions.
This year, over 30.000 visitors came to the Control exhibition to learn about the latest innovations in the field of quality assurance. At the exhibition VisiConsult X-ray Systems & Solutions GmbH presented its two latest innovations: an automated XRH111 system through an industrial robot and the compact InSpect cabinet. The XRH111+Robot is a combination of the renowned cabinet XRH111 for comprehensive X-ray inspection of small to medium parts and an ABB robot. Its modular setup allows manual inspection, automated defect recognition (ADR) and computed tomography (CT) in a single unit. VisiConsult automated these processes with an ABB robot to achieve higher throughput and reduce labor costs. The system can be placed directly at the production line to take parts from a tray, conveyor belt or similar and places them inside the cabinet. The system is one of the first combined in-line ADR and CT systems allowing a hundred percent 3D analysis of the parts. Typical checks are wall thickness analysis, porosity analysis or nominal-actual-comparison. This makes such a system the perfect choice for high-volume and safety relevant industries like automotive.
The compact X-ray cabinet InSpect can be used with Mini-Focus or Micro-Focus tubes and film, imaging plates (CR) or digital detectors to generate high resolution images of samples. The compact form factor allows usage in laboratories, technology centers and even quality checks of samples on the production floor. Due to the flexible choice of image sources the system can be customized towards customer requirements and budget. The embedded screen directly shows inspection results and allows high-end image processing within a few clicks to achieve outstanding results. Comprehensive archiving options to databases, PACS servers, file systems or reports allow users to store their results. The intuitive operation allows highest efficiency.
Beside the XRH111+Robot and the InSpect VisiConsult has a lot more inspection systems based on X-ray technology in its product portfolio. The family company from Northern Germany has always focused on high end customized solutions like automated in-line inspection systems, computed tomography systems and roof mounted gantry systems.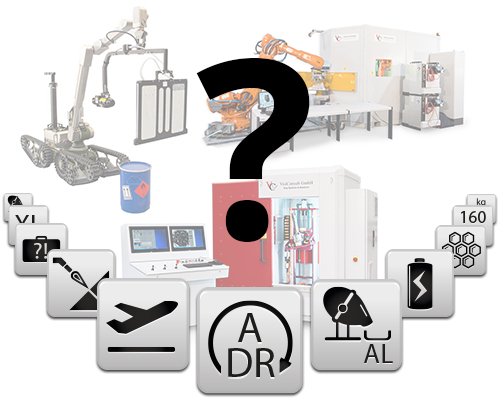 Product configurator
VisiConsult offers a broad portfolio of X-ray inspection systems. The configurator suggests suitable systems based on your products and requirements. This is the fastest way to the perfect solution - Discover the invisible!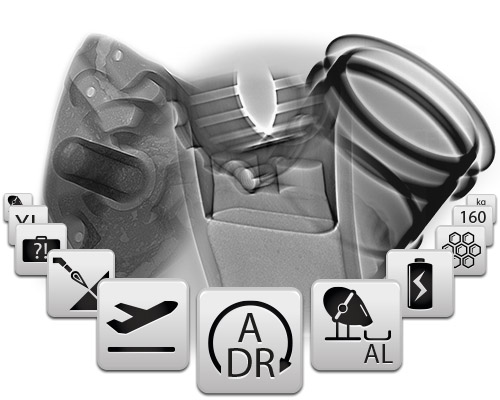 X-ray applications
X-ray is a versatile technology that can be used to solve a broad variety of inspection tasks. Browse through VisiConsult's extensive reference catalogue in different fields and industries. Challenge our application engineers with your inquiry.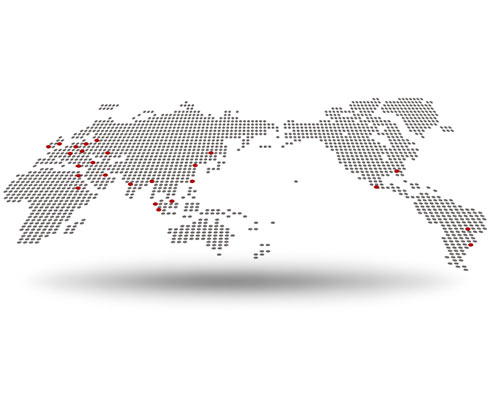 International Representatives
VisiConsult is a family owned company located in Northern Germany and is a specialist for customized and standard X-ray systems. To ensure a premium quality our products are developed and produced locally as turnkey solutions.
VisiConsult X-ray Systems & Solutions GmbH
The specialist for customized X-ray inspection solutions and automation
VisiConsult is a family owned company located in Northern Germany and known as the leading supplier for customized and standard X-ray inspection systems. To ensure a premium quality, all products are developed and produced locally as turnkey solutions. This leads to cutting edge technology and an unmatched flexibility.
Our goal is to solve inspection problems with tailored systems, while guaranteeing a premium post-sales service. More than 25 years of expertise in industrial (NDT) and security applications combined with experienced engineers result in solutions that set new industry standards. Discover the invisible!