VisiConsult has presented its new X-ray systems for non-destructive testing at the Control exhibition in Stuttgart. The systems attracted the attention of many visitors, who came to get more information about the products and services from VisiConsult, the leading specialist of X-ray solutions.
This year, over 30.000 visitors came to the Control exhibition to learn about the latest innovations in the field of quality assurance. At the exhibition VisiConsult X-ray Systems & Solutions GmbH presented its two latest innovations: an automated XRH111 system through an industrial robot and the compact InSpect cabinet. The XRH111+Robot is a combination of the renowned cabinet XRH111 for comprehensive X-ray inspection of small to medium parts and an ABB robot. Its modular setup allows manual inspection, automated defect recognition (ADR) and computed tomography (CT) in a single unit. VisiConsult automated these processes with an ABB robot to achieve higher throughput and reduce labor costs. The system can be placed directly at the production line to take parts from a tray, conveyor belt or similar and places them inside the cabinet. The system is one of the first combined in-line ADR and CT systems allowing a hundred percent 3D analysis of the parts. Typical checks are wall thickness analysis, porosity analysis or nominal-actual-comparison. This makes such a system the perfect choice for high-volume and safety relevant industries like automotive.
The compact X-ray cabinet InSpect can be used with Mini-Focus or Micro-Focus tubes and film, imaging plates (CR) or digital detectors to generate high resolution images of samples. The compact form factor allows usage in laboratories, technology centers and even quality checks of samples on the production floor. Due to the flexible choice of image sources the system can be customized towards customer requirements and budget. The embedded screen directly shows inspection results and allows high-end image processing within a few clicks to achieve outstanding results. Comprehensive archiving options to databases, PACS servers, file systems or reports allow users to store their results. The intuitive operation allows highest efficiency.
Beside the XRH111+Robot and the InSpect VisiConsult has a lot more inspection systems based on X-ray technology in its product portfolio. The family company from Northern Germany has always focused on high end customized solutions like automated in-line inspection systems, computed tomography systems and roof mounted gantry systems.
In different industries companies cooperate to provide their customers an additional value. People might wonder which additional value they gain from such a collaboration. Also VisiConsult X-ray Systems & Solutions GmbH, a company from Northern Germany raised this question a few years ago. The specialist for customized X-ray inspection solutions develops systems for different industries like the automotive and aerospace sector. The company 'BMB – Gesellschaft für Materialprüfung mbH' is the leading service provider for non-destructive testing of casting, forging and plastic parts and mainly works with the testing-systems from VisiConsult. The target of the collaboration in the non-destructive testing sector is a mutual strengthening of the companies to improve quality and customized performance.
The collaboration has provided benefits for both specialists. The companies support each other by improving their company processes permanently. 'To question the current status over and over, develop convincing visions together and nevertheless put quality on first place, that is the essence of the working relationship between VisiConsult and BMB', describes Hajo Schulenburg, director of VisiConsult, the collaboration.
Hans M. Berg, one of the three directors of BMB, is also convinced by the advantages of the close collaboration. 'We strongly believe that we can only provide 'proven reliability' to our customers together with a great partner. When our customers want to start a test object in high quantity right away within a short time period, we urgently need an X-ray system from VisiConsult, which can be configurated via remote maintenance. If the collaboration would not work, this would lead to an assembly line stop at one of our customers'. Just recently, VisiConsult developed a full automatic X-ray inspection system, the XRHRobotStar, in collaboration with BMB. The prompt development, high quality and simple integration of the system proves the successful collaboration. 'It is no secret, how strongly we appreciate to work with another family company together. We are looking forward to the upcoming years of collaboration with VisiConsult, which will be certainly as successful as always,' says director Berg.
Safety relevant parts in the aerospace industry need to be tested with X-ray technology. VisiConsult X-ray Systems & Solutions GmbH is the leading supplier for customized systems and solutions in digital X-ray testing and has successfully upgraded the old and analog X-ray system for rotor blades of Airbus Helicopters to modern digital radiography.
In times of lighter materials and higher pressures in the aerospace industry, the quality assurance if of increased importance. Only a comprehensive inspection guarantees that the parts can withstand the high requirements. Of course, the leading manufacturer of civil and military helicopters Airbus Helicopters from Donauwörth in Southern Germany performs a complete X-ray inspection of their production parts. In the past, this has been done with an analog imaging technique, a so-called image intensifier. As the X-ray inspection is a mandatory inspection step at the end of the production chain, a high system availability is necessary. A system failure would inevitably lead to a disruption in the process and directly impacts the production output. The old system could not guarantee this availability anymore and an alternative had to be found within a very short timeframe. Another demand was to modernize the process through digitization, which could be achieved through Digital Radiography (DR). The advantages of this technology are easier certification, simplified result-archiving and a clearly improved image quality.
After investigation of several suppliers and solutions, VisiConsult was able to prevail with a new development against the competition: The specially developed HDMI image intensifier combines the advantages of a digital detector array (DDA) with those of an analog technique. Only with this technique the X-ray inspectors could test e.g. the honeycomb structure of special rotor blades in motion without artefacts. The flexibility of VisiConsult to react to special customer wishes and find new ways led to this big project success within shortest time. Beside the aerospace industry, VisiConsult is also represented in a number of further industries, like foundries, pipe mills, automotive manufacturers etc. The innovative systems provide highest inspection quality as well as a high degree of automatization, which helps customers to decrease costs.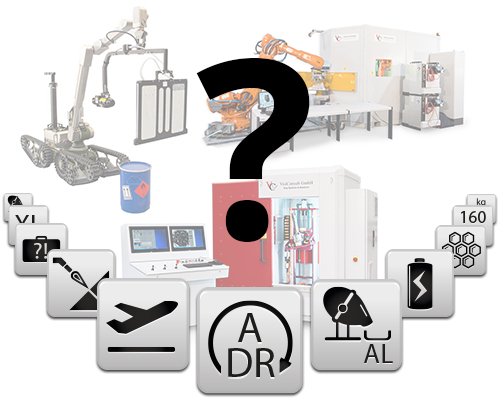 Product configurator
VisiConsult offers a broad portfolio of X-ray inspection systems. The configurator suggests suitable systems based on your products and requirements. This is the fastest way to the perfect solution - Discover the invisible!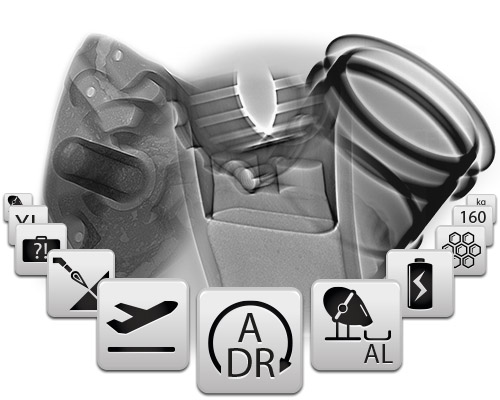 X-ray applications
X-ray is a versatile technology that can be used to solve a broad variety of inspection tasks. Browse through VisiConsult's extensive reference catalogue in different fields and industries. Challenge our application engineers with your inquiry.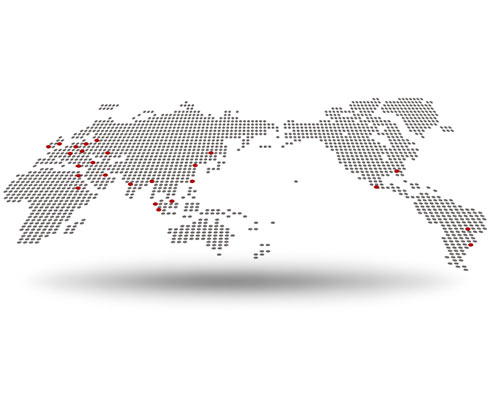 International Representatives
VisiConsult is a family owned company located in Northern Germany and is a specialist for customized and standard X-ray systems. To ensure a premium quality our products are developed and produced locally as turnkey solutions.
VisiConsult X-ray Systems & Solutions GmbH
The specialist for customized X-ray inspection solutions and automation
VisiConsult is a family owned company located in Northern Germany and known as the leading supplier for customized and standard X-ray inspection systems. To ensure a premium quality, all products are developed and produced locally as turnkey solutions. This leads to cutting edge technology and an unmatched flexibility.
Our goal is to solve inspection problems with tailored systems, while guaranteeing a premium post-sales service. More than 25 years of expertise in industrial (NDT) and security applications combined with experienced engineers result in solutions that set new industry standards. Discover the invisible!