Ohm & Haener signs big order for new VisiConsult X-ray system on the Euroguss show
The Euroguss in Nuremberg is the leading casting exhibition in Europe. The innovative X-ray company VisiConsult from northern Germany was able to log a large order from Ohm & Haener Metallwerk for a high-end inspection system directly on the exhibition.
The privately-owned company Ohm & Haener Metallwerk (O+H) from Olpe in Germany is an innovative casting specialist for non-ferrous metals and a specialist for mechanical post-processing. The company has already invested in several VisiConsult systems and is very satisfied with the performance and service provided by the manufacturer. As O+H got a new project for very big and complex parts that required X-ray inspection, the managing directors met with the VisiConsult team on the Euroguss casting show and negotiated a fair price for the roof-mounted XRHGantry system and sealed it on the spot with a handshake deal.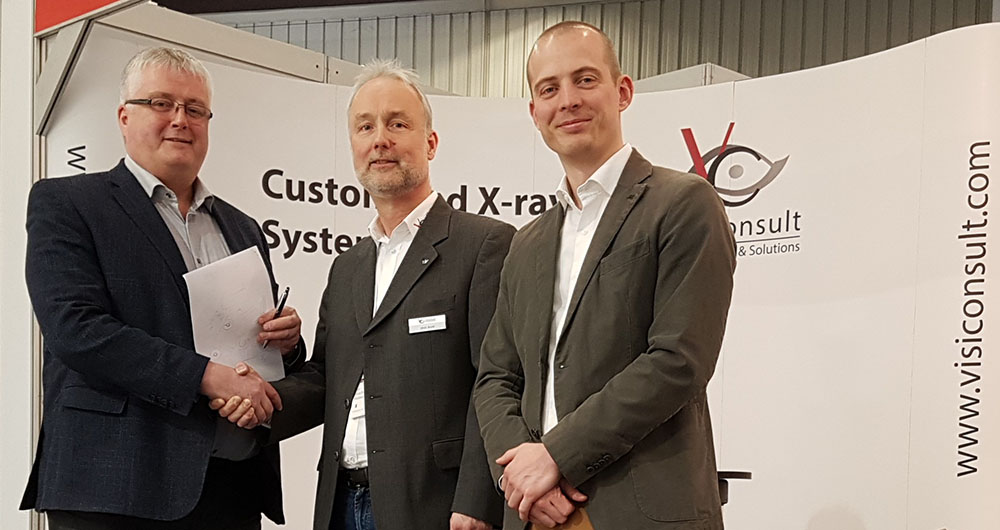 Dr.‑Ing. Ludger Ohm, Ulrich Brand and Dipl.‑Ing. Paul Ohm closing the deal.
Big, bigger, XRHGantry!
O+H is already a power-user of VisiConsult's X-ray cabinet and CT solutions. When the largest cabin came on the market, the XRH222TL, they were the pilot customer to invest in the new technology that allowed easy top loading through the roof. Ulrich Brand, NDT Sales Manager at VisiConsult, has been the responsible person and supported O+H right from the start, says: "Our customers come to us, because we are more to them than just a supplier. At VisiConsult we see our customers as long term partners and we do everything we can to help them succeed."
This time the company was interested in a solution that could handle very large aluminium castings with a weight of up to 750 kilos and a size of 3100 mm in length, 1400 mm in height and 600 mm in width. The inspection of heavy and large components requires a versatile and adaptable system. Dr.-Ing. Ludger Ohm, Managing Director at O+H, explains: "After many discussions with Mr. Brand, it was clear: The XRHGantry from VisiConsult is the perfect system for the inspection of such large components. It is a roof-mounted system with seven programmable axes. In our case, an X-ray voltage of up to 320 kV is needed to penetrate our parts. As we are used to VisiConsult, they were able to provide us a suitable, customized solution very quickly."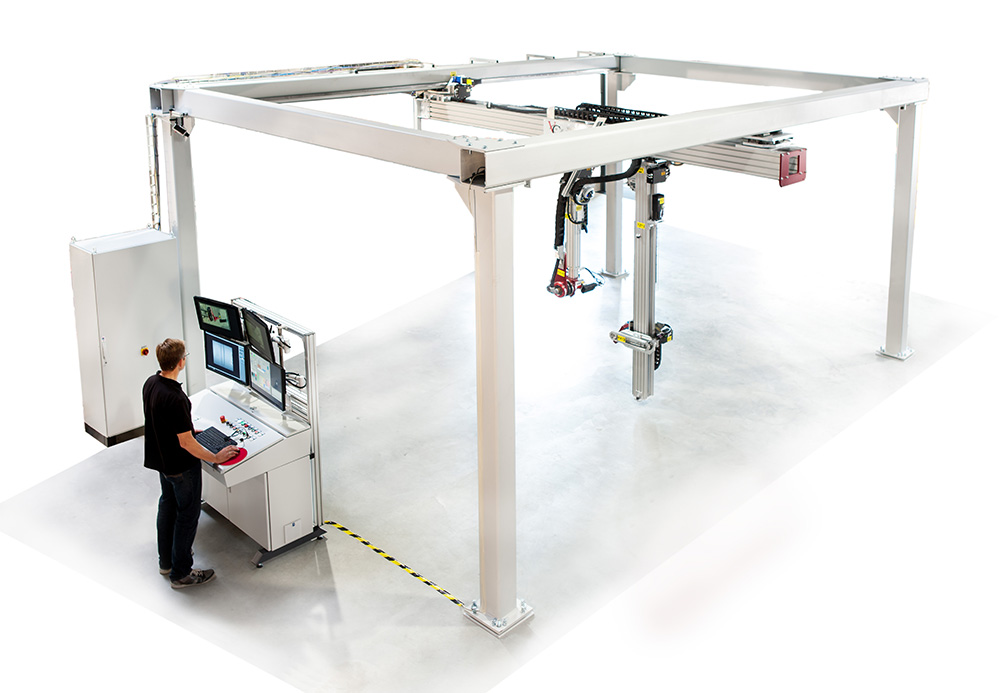 The XRH Gantry is a roof-mounted system with seven independent axes.
A successful start of the year
The deal was sealed directly on the Euroguss with a handshake between Dr.-Ing Ludger Ohm and Ulrich Brand. This marks the end of a successful exhibition in Nuremberg and is a great start into 2020 for VisiConsult. It continues a series of recent successes, like being awarded worldwide technology leader status by the German Chamber of commerce and showing strong growth beyond 100 employees in 2019. Commercial Director Lennart Schulenburg says: "It is great to see the ongoing trust of the market into our company, even amidst global economic challenges. VisiConsult will continue to grow strongly and we are on the brink of releasing many cutting-edge product innovations to the market. This will be an exciting decade with NDT 4.0."
VisiConsult is a family owned company located in Northern Germany and known as the leading supplier for customized and standard X-ray inspection systems. To ensure a premium quality, all products are developed and produced locally as turnkey solutions. This leads to cutting edge technology and an unmatched flexibility.
Our goal is to solve inspection problems with tailored systems, while guaranteeing a premium post-sales service. More than 25 years of expertise in industrial (NDT) and security applications combined with experienced engineers result in solutions that set new industry standards. Discover the invisible!
If you need further information, contact Chelen Jonas via telephone +49451 290 286 0 or mail c.jonas@visiconsult.de.