VisiConsult X-ray Systems & Solutions GmbH expands its international coverage through new additions to the representative network and the opening of new subsidiaries.
Although VisiConsult is based in Stockelsdorf near Hamburg in northern Germany, its large representative network and self-owned subsidiaries make it a global company with extensive coverage worldwide. In addition to the branch in the US (Atlanta), the company has employees in India, France and Brazil. The partners and representatives for service and sales are well-trained and can serve customers from inquiries to maintenance. VisiConsult works closely with its partners and trains them at the company headquarter. This is the only way to ensure the high service standard and quality.
VisiConsult's newest partners are Force Technology (Denmark), Tecnitest Ingenieros SL (Spain and Portugal), Holger Andreasen AB (Denmark), Holger Hartman (Norway), Techserve (Pakistan), Samir Group (Saudi Arabia), Ukrest (Ukraine), RAISA (Mexico) Test Equipment Distributors TED (USA) and Illies (Japan). Although the representative network is already very comprehensive, there are still open markets for which partners are still being searched. For example, Australia, Southeast Asia, Kazakhstan, BeNeLux or Morocco are currently still vacant.
VisiConsult X-ray Systems & Solutions GmbH is a leading manufacturer of high-quality digital X-ray systems and solutions. The family business is known for highest production quality (ISO 9001 certified) and reliable customer service. The company's main focus is on high-quality customer solutions, such as automatic row control systems, computed tomography systems and ceiling mount systems. In addition, the company is a leader in the field of public safety X-ray equipment, the mobile systems mobile check suspect luggage and defuse bombs worldwide. VisiConsult is proud to be able to contribute to a safe world with its solutions.
VisiConsult developed the free smartphone app "NDT-X-ray Toolbox", which is designed to make the daily work of NDT technicians and X-ray users easier.
"NDT X-ray Toolbox" is a free smartphone app developed from X-ray technology users for X-ray technology users. It offers many useful features designed to make the handling of demanding quality standards easier. The complicated formulas and calculations are solved within a few seconds. This includes most of the tasks NDT technicians need to perform on a regular basis. Geometric calculations, optimal magnification, image unsharpness, required number of CT projections, voxel size, penetration calculator and much more. There is also an extensive portfolio of converters, such as an international unit converter or an IQI converter. The X-ray standard glossary lists all ASTM / ISO standards and explains them, as well as common formulas and terminologies. In addition, new features are added constantly. The app is available for iOS and Android free.
The most important features in brief:
International unit converter including distances, time, weight and much more
Easy calculation of optimal magnification, intensity or image blur
Calculation of required projections, penetration, geometry etc.
Comprehensive overview of all X-ray standards (ASTM and ISO)
Overview and converter for many different image quality indicators
Overview and explanations of common formulas and terms
The family business VisiConsult X-ray Systems & Solutions GmbH is one of the leading companies in the field of industrial material testing and delivers its innovative X-ray systems all over the world. The non-destructive testing (NDT) includes custom solutions for aerospace and automotive industries and is a leader in public safety X-ray equipment.
In digital X-ray inspection, a radiograph of an object penetrated by X-rays is directly displayed on a screen. In the process called ADR (Automatic Defect Recognition) using X-ray radiation, the interaction of an operator is not needed to evaluate the X-ray image for any existing defects such as porosities, inclusions and other identified defects. This task is carried out automatically by an image evaluation algorithm which must, however, be parameterized and also monitored regularly by a trained staff. The ADR is an automated test that is used for the inspection of high quantities of test items, and usually in three-shift operations or where the customer wants a high degree of repeatability in defect evaluation.
While configuring the ADR program, a fixture/holder must be constructed, that will allow the test items to be inspected without backlash and with a high degree of repeat accuracy. This requires the fixture /holder to consist of a light absorbing material for X-rays. In addition, there are test specifications of the end user, which must be considered. Furthermore, it may be necessary to comply with expected high cycle inspection times. During the configuration, test positions are then defined and parameters set using the reference images. This usually happens offline before any final inspection process is implemented.
The detection of the defects is defined by regions of interest, on which different filter masks are applied (see Figs. 1 and 2). There are several filter types available. On areas displaying little variance of structures, an automatic filter can be used, which however, shows weaknesses in the detection of defects close to edges. Therefore, special edge filters must be applied. Additionally, the reference image can be involved during the defect detection. By means of image registration, i.e. the object image is superimposed on the reference image, whereas a compensatory transformation is calculated, both images are brought into the best possible match. In an ideal case, features detected in the actual image from both object and reference images, are segmented and represent defects.
This first parameter setting is then tested on further parts during production and is further optimized. Moreover, a part is prepared or a defective sample is selected, that will undergo the testing process. This so-called master part should be tested once before every shift to verify the system detectability of the well-known defects. This procedure should also be repeated whenever the parameterization has been modified, to ensure that the defect recognition is passed.
Besides the defect detection in castings, the ADR inspection can be applied on other items as well, looking for example at part geometry, density differences, missing units and pores/inclusions (see Figs. 3-5).
In order to track the test items, there are tools for serial number recognition via identification of a DMC, an RFID or even a text, raised in the X-ray image.
There are different possibilities for dealing with rejected parts. Either the part is automatically ejected or discarded/marked without any further inspection, or the X-ray images are "post-scored", i.e. stored and visually evaluated by a trained operator. This visually evaluation does not have to occur during the production testing process, but later at an offline evaluation station where a determination can be made if the part is salvageable or not.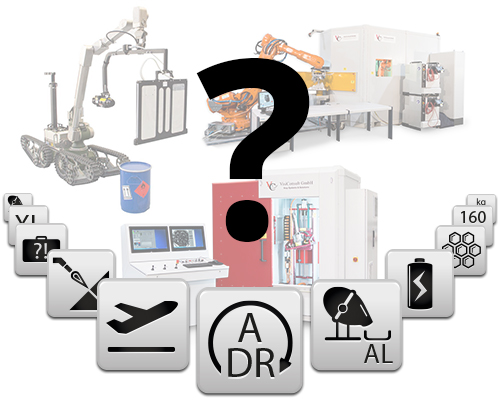 Product configurator
VisiConsult offers a broad portfolio of X-ray inspection systems. The configurator suggests suitable systems based on your products and requirements. This is the fastest way to the perfect solution - Discover the invisible!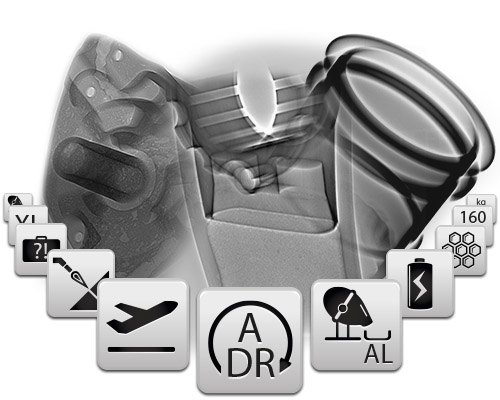 X-ray applications
X-ray is a versatile technology that can be used to solve a broad variety of inspection tasks. Browse through VisiConsult's extensive reference catalogue in different fields and industries. Challenge our application engineers with your inquiry.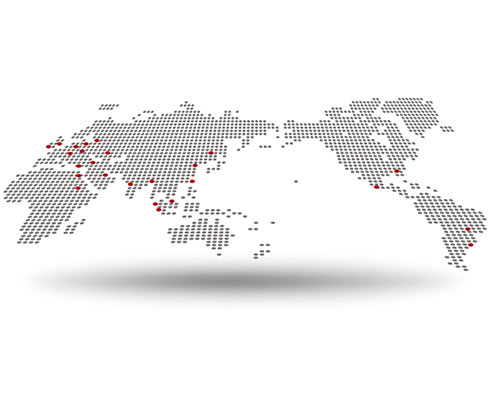 International Representatives
VisiConsult is a family owned company located in Northern Germany and is a specialist for customized and standard X-ray systems. To ensure a premium quality our products are developed and produced locally as turnkey solutions.
VisiConsult X-ray Systems & Solutions GmbH
The specialist for customized X-ray inspection solutions and automation
VisiConsult is a family owned company located in Northern Germany and known as the leading supplier for customized and standard X-ray inspection systems. To ensure a premium quality, all products are developed and produced locally as turnkey solutions. This leads to cutting edge technology and an unmatched flexibility.
Our goal is to solve inspection problems with tailored systems, while guaranteeing a premium post-sales service. More than 25 years of expertise in industrial (NDT) and security applications combined with experienced engineers result in solutions that set new industry standards. Discover the invisible!