The contract electronics manufacturer Qualitel improves material management using automated X-ray SMD component counter. This led to significant savings in time and costs compared to the labor intensive manual approach.
Qualitel is a contract manufacturer (EMS) specialized in a full range of high-mix, low-volume, and high-reliability products and services. Serving aerospace, medical and life sciences, industrial, and military markets Qualitel is now also using the contactless component counting system XRHCount from VisiConsult. Qualitel did a comprehensive market evaluation and comparison, which led to the conclusion that the XRHCount is the fastest and most accurate component counting system based on X-ray technology worldwide.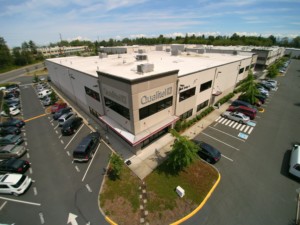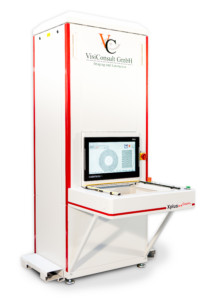 The component counting system for SMD reels delivers exact results within a cycle time of less than 10 seconds. This leads to massive savings in the field of material management. The efficient functioning of the X-ray counter system convinced the electronic manufacturing service provider Qualitel. Customer's quote, by Hoa Hoang, Role: VP of operations: "Automation of counting process is a key point on material management, the XRHCount helped us to keep constant monitoring of stock levels. The machine is integrated with our ERP system and has a customized plugin developed for our need, making easier and simple the usage according our business need".
Qualitel was searching for a state-of-the-art system and chose VisiConsult for the following reasons: The Counting Cloud software helps to maintain flexibility and increase utilization by this the online feature. Therefore, new component types do not have to be trained locally by engineers. Instead the new reels are directly submitted to the VisiConsult development team. Every system receives an automatic update on a regular basis. The extensive type database is continuously growing through a huge installed base of units worldwide. This leads to a constant improvement of the internal artificial intelligence and accuracy. This service also delivers new software updates and is completely free of charge.
In addition to XRHCount, the wide product portfolio of VisiConsult includes X-ray systems for other applications, such as inspection systems for the automotive, aerospace and industrial markets. VisiConsult also provides mobile systems for the security sector and retrofitting of old or defective X-ray systems.
Artificial intelligence (AI) or machine learning is currently omnipresent everywhere. In addition to prominent examples, like autonomous driving, also the inspection industry is looking into this technology. The R&D driven company VisiConsult X-ray Systems & Solutions GmbH for example, is currently developing an AI platform to detect defects even more reliably and more automated than in the past.  X-ray technology is always used in the non-destructive testing (NDT). Unlike optical processes, internal defects like pores, inclusions or geometries can also be tested. Since the digitization period in the last ten years, digital detectors have been used much more heavily instead of analogue film. With this digitization step, the data is available in real time and can be evaluated by computers. Especially in the automotive sector with its high volumes, this is highly relevant. For 20 years, the company has been delivering so-called Automated Defect Recognition (ADR) systems, which detect errors automatically after a human did a component-specific parameterization. Nowadays, production cycles are getting shorter and shorter and the market is calling for faster Ramp-up times. Furthermore, the parts are going to be lighter and more complex, while the quality requirements increase to the same extent. The classic image processing methods of the X-ray specialists require a high positioning accuracy and an extensive component parameterization.
By using artificial intelligence, this effort could be massively reduced predict the specialists from VisiConsult. Initial tests with available AI frameworks already achieved detection rates of up to 90% in a blind study compared to the conventional procedure. "The tests in this area are still in their infancy", says Lennart Schulenburg, authorized signatory at VisiConsult "since our systems are used to test safety-critical components, extensive tests and qualifications are necessary." Automation is one of the focus topics of the family business, therefore VisiConsult has concluded a research cooperation with the University of Lübeck in 2017. As part of this cooperation, there are several master and doctoral theses on the subject of AI. "The university of Lübeck is a leader in medical imaging. Since they already investigated heavily in AI, this area is already far ahead of our industry. We are currently transferring this knowledge to our applications", says Lennart Schulenburg. Due to qualification obstacles, ADR has historically been excluded from high-critical areas such as aviation. Due to the increased quantities in these areas, there is a great interest in qualifying the procedures accordingly. Therefore, VisiConsult is working with a leading aviation group in a European aviation research project to establish ADR as a test method. The use of AI is also being tested in this area. Especially in the field of Automatic Defect Recognition within welds, VisiConsult hopes for a breakthrough with the smart machines.
Crucial for the success of an AI is the number and quality of the underlying image data. "Data is the oil of Industry 4.0" emphasizes Lennart Schulenburg. For this reason, VisiConsult has developed a cloud solution into which cooperation partners can upload evaluated image data. These are anonymized and used to parameterize the AI. The higher the quality of the data, the better the AI can become. VisiConsults error database includes multivalued multi-user records with marked and classified errors. As a specialist for fully automated inspection systems, VisiConsult has developed a patent for automatic robot positioning: Through the combination of robotics, 3D sensors and image registration a high positioning repeatability can be achieved without additional components. This system will now be combined with the new AI solutions, reducing the ramp-up process from several days to a few hours. Components are then moved in mixed operation on a conveyor belt in the system and are automatically detected by the system. The software would recognize which component is to be inspected and guides the robotics to the exact inspection-position. This would eliminate set-up times completely and increase the throughput massively. As a side effect, the pseudo-rejects are reduced and the detection probability is increased. Both are requirements for an aerospace approval of the system. The family owned company with more than 70 employees from Northern Germany is considered to be the leading supplier of customer-specific X-ray inspection systems and is still looking for project partners for the implementation of pilot projects in fully automatic testing.
About VisiConsult:
VisiConsult X-ray Systems & Solutions GmbH is a leading manufacturer of customized digital X-ray systems and solutions. The family business is known for highest production quality and reliable customer service. The companies main focus is on high quality customer solutions, such as automated in-line inspection systems, computed tomography systems and roof mounted systems. In addition, the company is a leader in the field of public safety X-ray equipment, the mobile systems mobile checks suspect baggage and defuses bombs worldwide. VisiConsult is proud to be able to contribute to a safe world with its solutions.
The XRHRobotStar is a digital X-ray robot-system that allows an ultra-fast in-line inspection. The innovative Automated Defect Recognition (ADR) and optimized process make it the fasted in-line system worldwide. The throughput can be increased by using a cluster of several systems.
The underlying principle is that a loading robot on the outside handles the incoming parts and distributes the inspected parts, while the robot on the inside has a C-Arm with mounted X-ray components. The acquired images are automatically processed by the in-house developed ADR and checked for critical defects or other user defined criteria. The patented system is Industry 4.0 ready and used mainly by automotive suppliers with high production volume.
This system is innovative in many different ways. First of all, VisiConsult was granted a patent for its novel operation principle. The highly parallelized setup allows shortest cycle times. As an example: A medium sized casting part of roughly 500 mm has a total cycle time of 16 seconds with a total amount of 10 test positions. VisiConsult as a solution provider for customized X-ray systems adapts the system directly on the existing manufacturing line for every customer. Below are the main innovation areas:
Flexibility: VisiConsult just registered a patent for the revolutionary concept of combining a 3D stereo-camera with an automated X-ray system. The camera notes the offset towards the reference position for every part and allows the robot to automatically track the part. Combined with a novel image registration and robust ADR algorithms this innovation eliminates the need for expensive and inflexible part holders.
Industry 4.0: The system is fully interconnected and embedded to the ERP/MES systems of the customer. With single part traceability the system is therefore even fulfilling demanding automotive or aerospace standards. Operators can pull up specific images at any time. Inspection data can also be used for process optimization. The knowledge of specific defect distribution is a valuable insight, which can be used by process engineers.
Automation: Of course, physically the system is completely automated and designed to run 24/7 without human interaction. But more important is the digital side of the system. The in-house developed Automated Defect Recognition (ADR) is able to fully evaluate the acquired images. Typical casting defects like porosities, inclusions and geometry deviations are detected and measured. A broad variety of criteria, which can be defined by the user, can be used as a threshold.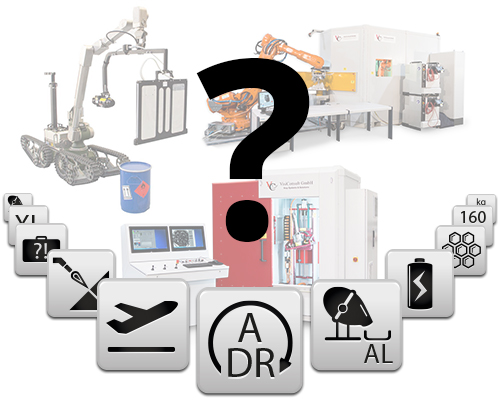 Product configurator
VisiConsult offers a broad portfolio of X-ray inspection systems. The configurator suggests suitable systems based on your products and requirements. This is the fastest way to the perfect solution - Discover the invisible!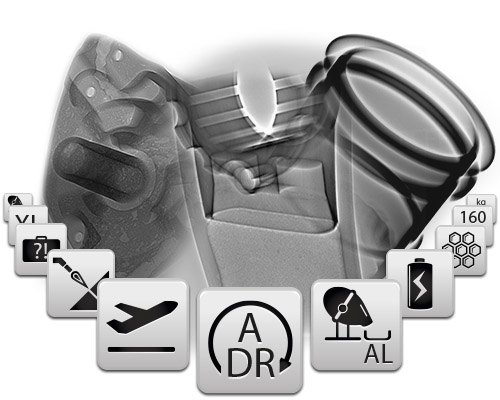 X-ray applications
X-ray is a versatile technology that can be used to solve a broad variety of inspection tasks. Browse through VisiConsult's extensive reference catalogue in different fields and industries. Challenge our application engineers with your inquiry.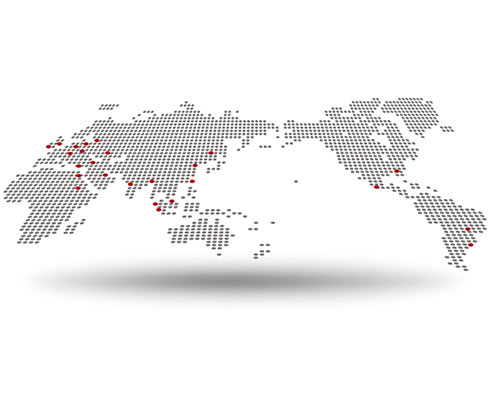 International Representatives
VisiConsult is a family owned company located in Northern Germany and is a specialist for customized and standard X-ray systems. To ensure a premium quality our products are developed and produced locally as turnkey solutions.
VisiConsult X-ray Systems & Solutions GmbH
The specialist for customized X-ray inspection solutions and automation
VisiConsult is a family owned company located in Northern Germany and known as the leading supplier for customized and standard X-ray inspection systems. To ensure a premium quality, all products are developed and produced locally as turnkey solutions. This leads to cutting edge technology and an unmatched flexibility.
Our goal is to solve inspection problems with tailored systems, while guaranteeing a premium post-sales service. More than 25 years of expertise in industrial (NDT) and security applications combined with experienced engineers result in solutions that set new industry standards. Discover the invisible!