VisiConsult X-ray Systems & Solutions GmbH reached place 607 of the "Financial Times 1000: Europe's Fastest Growing Companies 2018" and was named as winner of the Innovation Award IT for Schleswig-Holstein.
The Financial Times released a list of Europe's fastest growing companies, the FT 1000. The list includes the top 1000 companies in Europe, which achieved the highest percentage sales growth between 2013 and 2016. VisiConsult prevailed against many companies and reached place 607.
Furthermore, the XRHCount was able to prevail in the federal state Schleswig-Holstein in the Innovation Award IT. Since 2004, the Initiative Mittelstand (SME initiative) has been awarding particularly innovative products and solutions for the middle-class with the Innovation Award IT annually. VisiConsult's System convinces with innovation content, benefit and middle-class suitability.
The family business is very pleased to be able to build on the success of previous awards. The company was voted already on place 4 of the Growth Champions by FOCUS magazine last year and was awarded with the German American Chamber of Commerce (GACC) award two years in a row.
In addition, VisiConsult was able to present itself at some fairs already this year and is planning many more events and fairs for 2018 of course. For example, the company will be represented at the Control in Stuttgart, an international trade for quality assurance, and the ECNDT in Gothenburg, a conference about non-destructive testing (NDT), and it will also be represented at many fairs worldwide.
VisiConsult X-ray Systems & Solutions GmbH expands its international coverage through new additions to the representative network and the opening of new subsidiaries.
Although VisiConsult is based in Stockelsdorf near Hamburg in northern Germany, its large representative network and self-owned subsidiaries make it a global company with extensive coverage worldwide. In addition to the branch in the US (Atlanta), the company has employees in India, France and Brazil. The partners and representatives for service and sales are well-trained and can serve customers from inquiries to maintenance. VisiConsult works closely with its partners and trains them at the company headquarter. This is the only way to ensure the high service standard and quality.
VisiConsult's newest partners are Force Technology (Denmark), Tecnitest Ingenieros SL (Spain and Portugal), Holger Andreasen AB (Denmark), Holger Hartman (Norway), Techserve (Pakistan), Samir Group (Saudi Arabia), Ukrest (Ukraine), RAISA (Mexico) Test Equipment Distributors TED (USA) and Illies (Japan). Although the representative network is already very comprehensive, there are still open markets for which partners are still being searched. For example, Australia, Southeast Asia, Kazakhstan, BeNeLux or Morocco are currently still vacant.
VisiConsult X-ray Systems & Solutions GmbH is a leading manufacturer of high-quality digital X-ray systems and solutions. The family business is known for highest production quality (ISO 9001 certified) and reliable customer service. The company's main focus is on high-quality customer solutions, such as automatic row control systems, computed tomography systems and ceiling mount systems. In addition, the company is a leader in the field of public safety X-ray equipment, the mobile systems mobile check suspect luggage and defuse bombs worldwide. VisiConsult is proud to be able to contribute to a safe world with its solutions.
VisiConsult developed the free smartphone app "NDT-X-ray Toolbox", which is designed to make the daily work of NDT technicians and X-ray users easier.
"NDT X-ray Toolbox" is a free smartphone app developed from X-ray technology users for X-ray technology users. It offers many useful features designed to make the handling of demanding quality standards easier. The complicated formulas and calculations are solved within a few seconds. This includes most of the tasks NDT technicians need to perform on a regular basis. Geometric calculations, optimal magnification, image unsharpness, required number of CT projections, voxel size, penetration calculator and much more. There is also an extensive portfolio of converters, such as an international unit converter or an IQI converter. The X-ray standard glossary lists all ASTM / ISO standards and explains them, as well as common formulas and terminologies. In addition, new features are added constantly. The app is available for iOS and Android free.
The most important features in brief:
International unit converter including distances, time, weight and much more
Easy calculation of optimal magnification, intensity or image blur
Calculation of required projections, penetration, geometry etc.
Comprehensive overview of all X-ray standards (ASTM and ISO)
Overview and converter for many different image quality indicators
Overview and explanations of common formulas and terms
The family business VisiConsult X-ray Systems & Solutions GmbH is one of the leading companies in the field of industrial material testing and delivers its innovative X-ray systems all over the world. The non-destructive testing (NDT) includes custom solutions for aerospace and automotive industries and is a leader in public safety X-ray equipment.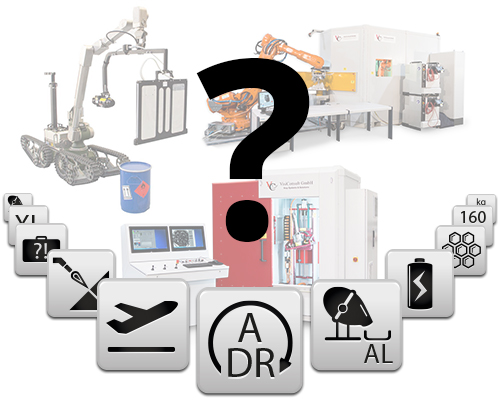 Product configurator
VisiConsult offers a broad portfolio of X-ray inspection systems. The configurator suggests suitable systems based on your products and requirements. This is the fastest way to the perfect solution - Discover the invisible!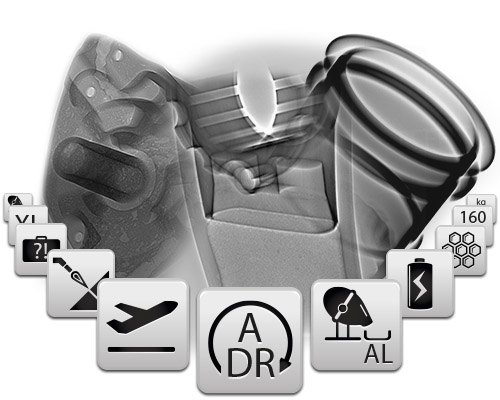 X-ray applications
X-ray is a versatile technology that can be used to solve a broad variety of inspection tasks. Browse through VisiConsult's extensive reference catalogue in different fields and industries. Challenge our application engineers with your inquiry.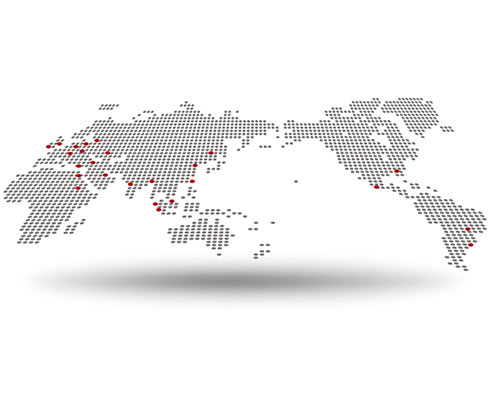 International Representatives
VisiConsult is a family owned company located in Northern Germany and is a specialist for customized and standard X-ray systems. To ensure a premium quality our products are developed and produced locally as turnkey solutions.
VisiConsult X-ray Systems & Solutions GmbH
The specialist for customized X-ray inspection solutions and automation
VisiConsult is a family owned company located in Northern Germany and known as the leading supplier for customized and standard X-ray inspection systems. To ensure a premium quality, all products are developed and produced locally as turnkey solutions. This leads to cutting edge technology and an unmatched flexibility.
Our goal is to solve inspection problems with tailored systems, while guaranteeing a premium post-sales service. More than 25 years of expertise in industrial (NDT) and security applications combined with experienced engineers result in solutions that set new industry standards. Discover the invisible!