VisiConsult is part of the ABB Value Provider Program and therefore an authorized ABB partner. Thanks to the close cooperation it is possible to realize sophisticated automation projects.
VisiConsult uses robotics from ABB to offer cutting-edge automated systems such as the XRHRobotStar. Furthermore, even Off-Line systems like the X-ray cabin XRH222 can be automated with an automation addon at any time. The VisiConsult automation team now consists of six engineers, which are trained on all established robotics platforms. Projects with KUKA, Fanuc, ABB and many other providers have already been implemented in the past. Automation allows to reduce the influence of the human error in the X-ray inspection. A side effect is short cycle time, high throughput and process safety.
ABB is a global leader in electrification products, robotics and drives and industrial automation. The ABB Value Provider Program is an ABB-wide partner program that has enabled ABB to work closely with external solution providers for over a decade. Participating companies are called ABB Authorized Value Providers.
VisiConsult X-ray Systems & Solutions GmbH is a leading manufacturer of high-quality digital X-ray systems and solutions. The family business is known for highest production quality (ISO 9001 certified) and reliable customer service. The company's main focus is on high-quality customer solutions such as automated X-ray inspection systems, computed tomography systems and ceiling mount systems. In addition, the company is a leader in the field of public safety X-ray equipment, thus, the mobile systems mobile checked suspicious baggage and defused bombs worldwide. VisiConsult is proud to be able to contribute to a safe world with its solutions.
The DIN EN ISO 17636 was released in 2013 and replaces the dated EN 1435. It defines the procedure of weld-inspection by using X-ray technology. Additionally, the DIN EN ISO 17636-2 is the first standard that provides guidelines for the inspection using imaging plates (IP/CR) and digital matrix detectors (DDA) in X-ray inspection.
Film technique is getting replaced by digital technology in a rapid pace. Shorter acquisition time, as well as total inspection time, by far less consumables, easier archiving, and no need for film development chemicals are solid reasons for a change to flat panel detectors. The ISO 17636-2 standard describes the ideal acquisition geometry of the welded connection joints. The exact geometries can be taken from the standard and the minimum quality requirements can be calculated.
The image quality must be evaluated according to standardized test specimens by using so-called IQIs (Image Quality Indicator). There are two types: The first one is the so-called duplex wire IQI, according to the standard EN ISO 19232-5 for the determination of the image unsharpness. The second type is the wire IQI according to EN ISO 19232-1 for the determination of the contrast (see figure 1). Additionally, the standard also approves the use of step hole type IQIs or plaques according to EN ISO 19232-2. These test specimens are placed on the base material next to the weld during irradiation. Depending on the material thickness, type of inspection (single-wall or double-wall radiation) and on which side the test specimen was placed (detector or spotlight side), there are minimum values, which wires have to be detected or, in case of duplex specimens, which wires still have to be separated. This is checked by special software tools, which compute if there is still a 20 percent gap between the wires (see figure 2).
There are two different quality levels defined: Class A (basic quality) and Class B (improved quality). As an additional quality feature for the images, the signal-to-noise ratio (SNR) should not fall below a certain value depending on the tube voltage, material and irradiated thickness (see table 1). For this reason, it's not possible to check in the live image when testing according to this standard because the noise is much too high. Integrated (averaged) images are always needed to achieve require SNR. The class to be chosen is defined in the inspection technique. Especially, in high risk environments like pressure vessels, pipelines, aerospace and others many parts require the high-test class B.
VisiConsult offers a software solution to automatically evaluate IQIs and determine compliance towards this standard. Otherwise it requires a lot of calculation for the inspector. An overview about this standard and the most important calculations are available in the free app "NDT X-ray Toolbox". It also offers many more features like CT and geometric calculations.
DOWNLOAD:
iOS: https://itunes.apple.com/us/app/ndt-x-ray-toolbox/id1291387260?mt=8
Android: https://play.google.com/store/apps/details?id=com.visiconsult.intercept2
VisiConsult organized the second X-ray Technology Day in Stockelsdorf near Lübeck on 20th and 21st February. With renowned speakers and interesting topics, the day turned out as a big success.
VisiConsult welcomed a total of 64 guests on the company premises in Stockelsdorf. The event focused on industrial X-rays, computed tomography, industry 4.0 and automation. In addition to many interesting contributions from various internal and external speakers, practical hands-on sessions were also held with the participants. Furthermore, the event was used for cross-industry networking with researchers, test-responsible and NDT managers. Participants came from various industries from aerospace to automotive. VisiConsult itself presented the latest innovations and developments and also showcased possibilities to increase efficiency and quality. The company is proud that so many participants were interested and looks forward to the next X-ray Technology Day.
The family owned company VisiConsult from Northern Germany is a leading supplier of customized solutions in the field of non-destructive testing using X-ray technology. It exports high technology worldwide for testing of aerospace components or the automotive sector. The fully automated solutions check that there are no hidden or structural defects. Furthermore, the company is a leader in the field of public safety X-ray equipment, so the mobile systems mobile check suspect baggage and defuse bombs worldwide. VisiConsult is proud to contribute with its solutions to a safe world.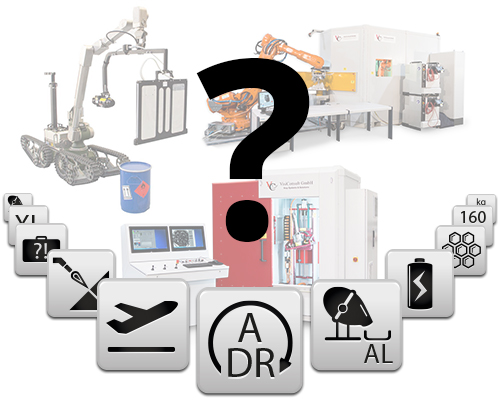 Product configurator
VisiConsult offers a broad portfolio of X-ray inspection systems. The configurator suggests suitable systems based on your products and requirements. This is the fastest way to the perfect solution - Discover the invisible!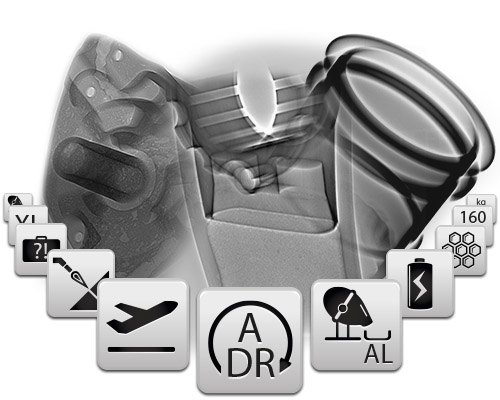 X-ray applications
X-ray is a versatile technology that can be used to solve a broad variety of inspection tasks. Browse through VisiConsult's extensive reference catalogue in different fields and industries. Challenge our application engineers with your inquiry.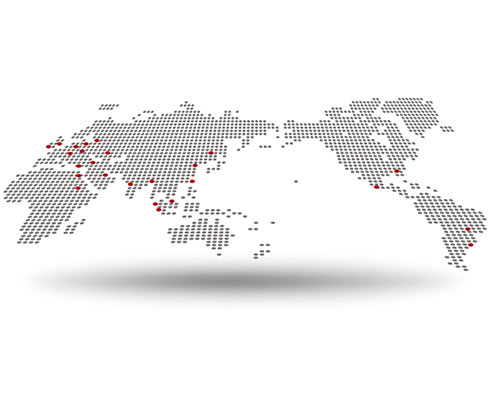 International Representatives
VisiConsult is a family owned company located in Northern Germany and is a specialist for customized and standard X-ray systems. To ensure a premium quality our products are developed and produced locally as turnkey solutions.
VisiConsult X-ray Systems & Solutions GmbH
The specialist for customized X-ray inspection solutions and automation
VisiConsult is a family owned company located in Northern Germany and known as the leading supplier for customized and standard X-ray inspection systems. To ensure a premium quality, all products are developed and produced locally as turnkey solutions. This leads to cutting edge technology and an unmatched flexibility.
Our goal is to solve inspection problems with tailored systems, while guaranteeing a premium post-sales service. More than 25 years of expertise in industrial (NDT) and security applications combined with experienced engineers result in solutions that set new industry standards. Discover the invisible!